Water Heater Repair
We understand how important it is to have a functional water heater, which is why our team of expert plumbers in Plainfield, Indiana, will thoroughly inspect your water heater before starting any repairs. You can rest assured that we will provide you with a clear understanding of the necessary fixes and the best solution for your water heater. At Fite Plumbing, we offer a complete range of services for traditional and tankless water heaters, and we are available to address any issue at any time of the year. Our experienced professionals are committed to delivering exceptional service and unmatched craftsmanship.
Trust the Local Plainfield, Indiana Water Heater Repair Experts.
Our Promise to You is to Perform the Correct Water Heater Repair at an Honest Price.
When you need water heater services, trust the experts at Fite Plumbing. Our technicians have the skills, knowledge, and tools to handle most water heater problems on the spot. 
When your Fite Plumbing technician arrives at your home, they will explain all of your options before starting repairs so you can make informed decisions before any work begins. We believe in providing the necessary information to make informed decisions about your water heater. In addition, we service and repair most brands of equipment, so you can trust us to perform a professional job every time.
Your Satisfaction is Our Priority. We are not content until you are happy with the results.
Why Choose Fite Plumbing for Your Water Heater Repair?
Expert advice:

 Our expert team of technicians will always offer professional, licensed, and certified advice.

Upfront pricing:

 We believe in transparency, and you can trust that the quoted price is the price you will pay.

Honest recommendations:

We only recommend necessary repairs, ensuring you receive the most cost-effective solution for your plumbing issues.

On-the-spot repairs:

 Our service vehicles are fully stocked with an extensive inventory of parts, allowing us to complete 93% of repairs without delay.

Commitment to excellence:

 We stand by all recommended repairs, ensuring that the job is done right the first time.

Flexible scheduling and same-day service availability:

 We accommodate your schedule, so don't hesitate to inquire about same-day service.
Still Have Questions? Contact Us for All Your Water Heater Inquiries! Fite Plumbing is Proudly & Professionally Offering Water Heater Repair in the Plainfield, Indiana area. Check out all of our current offers to make the most of our services. 
Recognizing Common Signs of Water Heater Issues
Even if your water heater still provides hot water, certain problems that require quick repairs can arise. If you notice any of the following signs, it's time to call the professionals at Fite Plumbing for water heater repair:
Water Temperature Issues
Is your gas or electric water heater producing water that is excessively hot, too cold, or not hot at all? These issues may indicate a thermostat problem or sediment buildup in your hot water heater.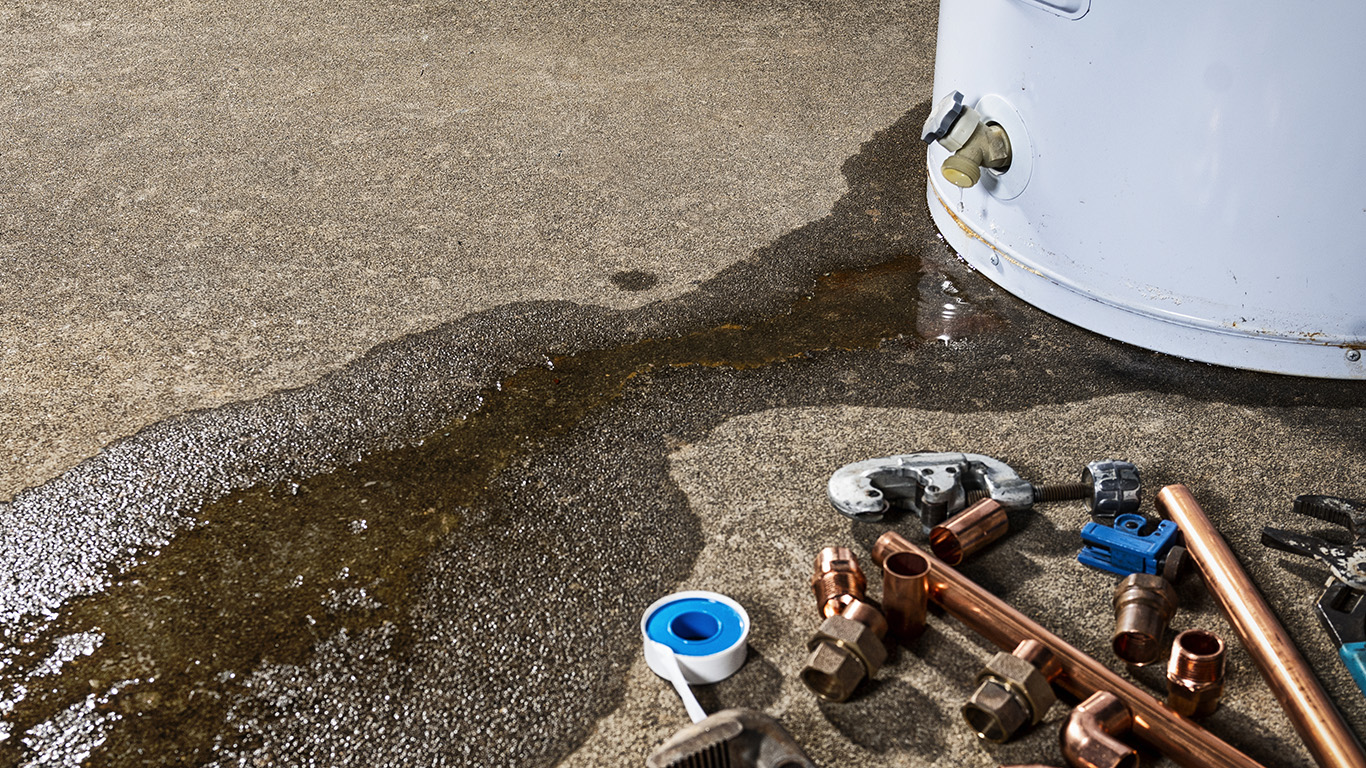 Water Leakage from the Top of Your Water Heater
Leaking water from the top of your water heater can be a red flag that your T&P valve has failed or that an inlet or outlet pipe is loose. Contact Fite Plumbing promptly to avoid costly future repairs.
Rusty Water in Plainfield, Indiana
If your hot water appears rusty or has a brown color, it's a serious indication of corrosion within the water heater. A leak is likely to occur soon. Call our water heater repair experts to diagnose and repair your gas or electric water heater professionally.
Unpleasant Odor in Hot Water
A foul smell emanating from your hot water tank is often a result of bacteria growth. This is commonly observed in homes using well water as their primary water source. If unsure, check your Indianapolis, Indiana water bill to determine your water source. While replacing the anode rod is a common solution, there may be other underlying issues. Contact the water heater repair experts at Fite Plumbing for a comprehensive evaluation.
 If you have any questions or concerns about water heater repair, don't hesitate to contact us today. We take pride in serving the Plainfield, Indiana area with utmost professionalism. And be sure to check out our current offers for additional benefits.

Fite Plumbing, Heating, and Cooling welcomes any project, large or small. Don't hesitate to contact us with any questions you may have about plumbing or the services we provide. We look forward to hearing from you.
Indianapolis, Plainfield, Avon, Mooresville, Greenwood, Whitestown , Fishers, Noblesville, Carmel, Zionsville, Geist, Brownsburg, Beech Grove and Central Indiana areas